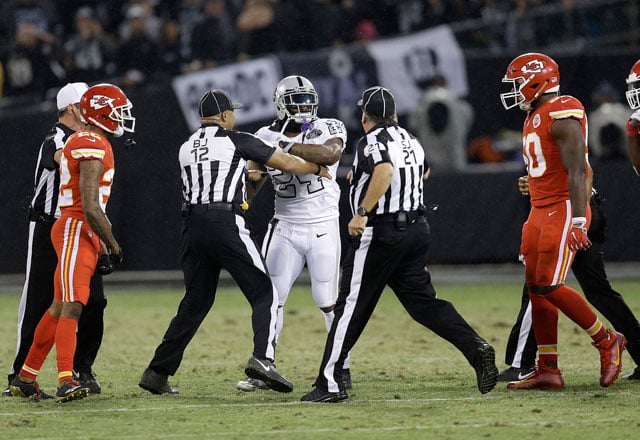 Oakland Raiders running back Marshawn Lynch (24) makes contact with back judge Greg Steed (12) during the first half of an NFL football game between the Raiders and the Kansas City Chiefs in Oakland, Calif., Thursday, Oct. 19, 2017. (AP)
(AP) -
The NFL is reviewing possible disciplinary measures for Oakland Raiders running back Marshawn Lynch, who was ejected from the game against the Kansas City Chiefs after he shoved an official when he ran onto the field during a scuffle.
League spokesman Joe Lockhart said the NFL is considering all options and would announce its decision.
"There is a schedule for fines for all offenses. For physical contact with an official, in excess of $30,000. There's entering a fight area, unnecessary roughness," Lockhart said. "On some cases, suspension is in order."
The scuffle started when Oakland quarterback Derek Carr was hit late on a run by Kansas City's Marcus Peters midway through the second quarter Thursday night.
Copyright 2017 The Associated Press. All rights reserved. This material may not be published, broadcast, rewritten or redistributed.