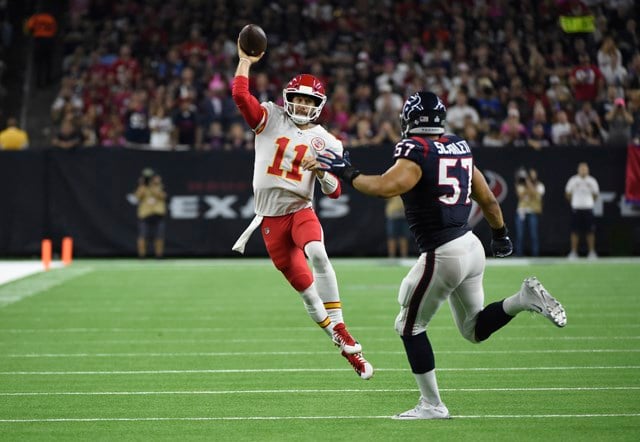 Smith shined on Monday, completing 29 of 37 passes, 78.4-percent, for 324 yards, three touchdowns and a 130.2 passer rating. (AP)
KANSAS CITY, MO (KCTV) -
On Tuesday, the NFL announced the Kansas City Chiefs Alex Smith is a finalist for the week's FedEx Air Player of the Week award for his outstanding performance against the Houston Texans.
Smith shined on Monday, completing 29 of 37 passes, 78.4-percent, for 324 yards, three touchdowns and a 130.2 passer rating.
The nomination is Smith's second of the season.
Two other quarterbacks were nominated for the award. Carolina Panthers quarterback Cam Newton, 26-33 for 355 yards, three touchdowns and a 141.8 passer rating; Carson Wentz, 21-30 for 304 yards, four touchdowns and a 128.3 passer rating.
Each week, following the Monday Night Football game, through Thursday at 3 p.m. eastern time, fans can visit NFL.com/FedEx or tweet using #AirandGround and the nominees' last name to cast their vote. FedEx and the NFL will announce the winners every Thursday afternoon and then FedEx will award a $2,000 donation in the winning players' names to The USO.
Copyright 2017 KCTV (Meredith Corp.) All rights reserved.