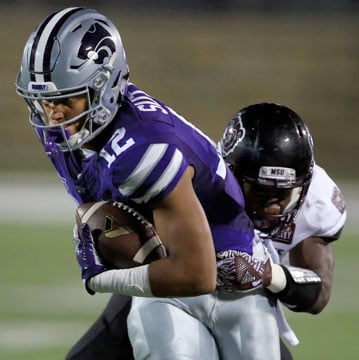 Kansas State wide receiver Corey Sutton (12) is tackled by Missouri State cornerback Matt Rush, back, during the first half of an NCAA college football game in Manhattan, Kan., Saturday, Sept. 24, 2016. (AP Photo/Orlin Wagner)
MANHATTAN, KS (KCTV/AP) -
Kansas State has granted a scholarship release to Corey Sutton after 24 hours of intense criticism over coach Bill Snyder's refusal of the wide receiver's request.
Snyder and athletic director Gene Taylor said Friday that Sutton has been granted a full release and will be permitted to transfer to any schools he requested. Sutton had supplied the school with a list of 35 schools, none of them in the Big 12 or future opponents of the Wildcats.
"After having further dialogue with Coach Snyder and the Sutton family, we believe that it is in everyone's best interest to grant Corey his full release," said Taylor. "We wish Corey the best as he continues his athletic and academic career."
"I would like to apologize to Corey and his family for my remarks last night which included sensitive and private information," Snyder added. "I spoke out of line and for that I express a sincere regret for my comments."
Sutton announced his desire to transfer last month, claiming Snyder and position coach Andre Coleman did not follow through on playing time promises. The native of Charlotte, North Carolina, then took his plea to Twitter, calling Snyder a "slave master" in a series of social media posts.
Sutton appeared in 10 games as a freshman last season, catching four passes for 54 yards
Copyright 2017 KCTV (Meredith Corp.) and the Associated Press. All rights reserved.