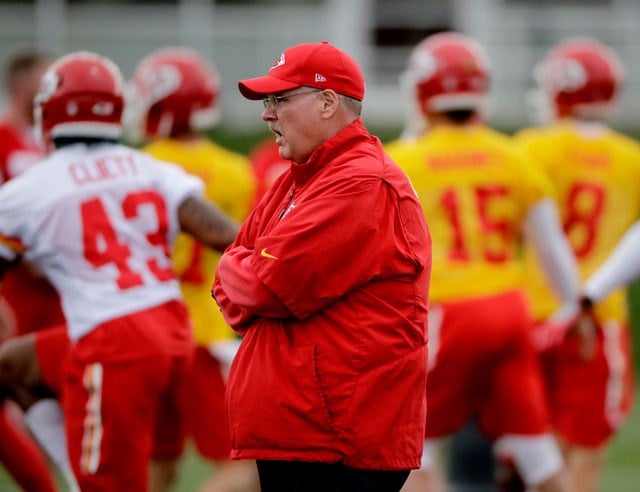 Kansas City Chiefs head coach Andy Reid watches a drill during the team's organized team activity at its NFL football training facility Wednesday, May 24, 2017, in Kansas City, Mo. (AP Photo/Charlie Riedel)
KANSAS CITY, MO (KCTV) -
The Chiefs are done with organized team activities for this week after three consecutive days of workouts that started Tuesday.
OTAs are considered "phase three" of the NFL's offseason training schedule, and while the team will enjoy the Memorial Day weekend like many of us, there is work to be done next week.
The difference between phase three and other stages is the ability to play against each other.
The team goes from practicing individual drills to kicking into high gear with the offense scrimmaging the defense. This is when Andy Reid can learn a lot more about how his team is progressing.
"I expect them to compete, first of all. Without knocking people on the ground and banging people around. I expect them to compete. Whatever exercise we're doing, whether it's an individual period or a team period, let's go. Then we get better at that. The biggest thing from Phase I to Phase II is that you get to go against a real defense from an offensive standpoint and the defense gets to go against a real offense," Reid said.
Marcus Peters, Eric Berry and Justin Houston have yet to participate in OTAs, but Reid did stress the workouts are "voluntary."
Copyright 2017 KCTV (Meredith Corp.) All rights reserved.