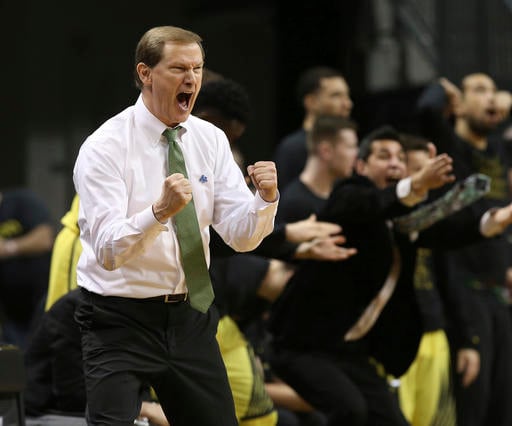 Oregon head coach Dana Altman yells to his team during the second half an NCAA college basketball game against Arizona Saturday, Feb. 4, 2017, in Eugene, Ore. (AP Photo/Chris Pietsch)
KANSAS CITY, MO (KCTV) -
Oregon is a very talented team.
They've made it this far without one of their best players, Chris Boucher, who was injured before the tournament.
Fast guard play has picked up the slack and Kansas must be ready for an up-tempo challenge.
We've been there as Oregon has practiced this week and have seen their athleticism firsthand.
Their coach, Dana Altman is no stranger to preparing for the Jayhawks. He coached Kansas State from 1990-1994 and knows what it takes to play and try and beat a program like Kansas.
Getting excited for tonight's challenge was easy for Altman because, as you can tell, that rivalry still runs in his blood:
"If you spend seven years at Kansas State, you don't like the Jayhawks, all right? Chickenhawks, all right? You can't spend seven years 90 miles away and the one chance we had to go to the Final Four in '88 they beat us after we had beat them in the conference tournament."
For one night – tonight – Altman gets to relive the intensity against Kansas. It will be like a road game for him and his players.
2017 KCTV (Meredith Corp.) All rights reserved.