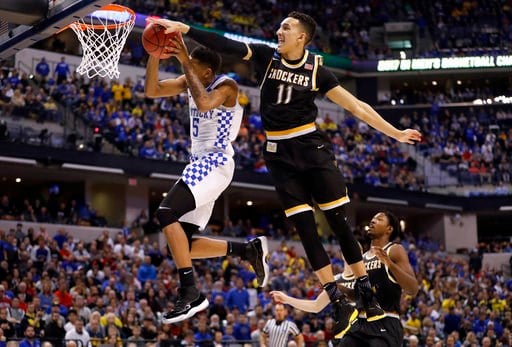 The youngest team in the NCAA Tournament grew up in the closing minutes. (AP)
By JOE KAY
AP Sports Writer
INDIANAPOLIS (AP) - Bam Adebayo had a double-double and swatted away the final shot on Sunday as Kentucky sent Wichita State to yet another second-round heartbreak, 65-62 in the South region.
The youngest team in the NCAA Tournament grew up in the closing minutes.
Adebayo had 13 points and 10 rebounds. De'Aaron Fox had 14 points, including a late steal and dunk. Malik Monk blocked a shot and made a pair of free throws in the final 13 seconds. Adebayo clinched it by blocking Landry Shamet's 3-pointer shot at the buzzer.
Yes, Kentucky's freshman trio did it all.
Wham, Bam, move on 'Cats (31-5), right into the Sweet 16 for the seventh time in nine years.
And wipe tears away again, Shockers (31-5).
Copyright 2017 The Associated Press. All rights reserved. This material may not be published, broadcast, rewritten or redistributed.