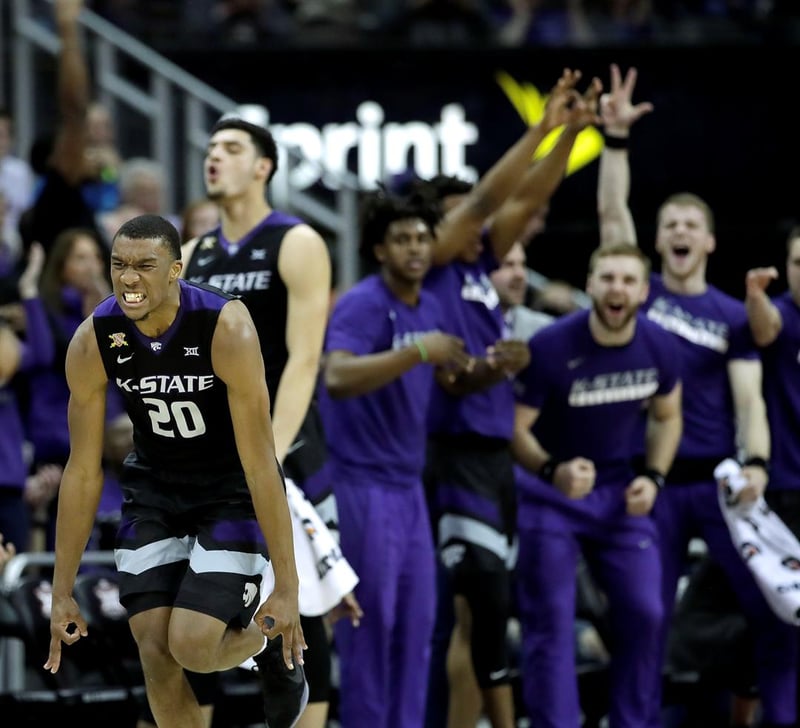 Kansas State's Xavier Sneed (20) celebrates after scoring a basket during the second half of the team's NCAA college basketball game against Baylor Thursday night. (AP)
KANSAS CITY, MO (KCTV) -
Barry Brown had 21 points, D.J. Johnson added 13 and Kansas State topped ninth-ranked Baylor 70-64 in the Big 12 Tournament on Thursday night, clinching not only a spot in the semifinals but most likely a spot in the NCAA Tournament.
It was the second time the sixth-seeded Wildcats, 20-12, have beaten the Bears, 25-7, this season, giving them precisely the kind of marquee victory that the selection committee favors.
They'll get a chance for another against No. 11 West Virginia in Friday night's semifinals.
The No. 3 seed Bears got within 64-60 on Al Freeman's 3-pointer with 50 seconds to go, but they were forced to keep sending Brown to the foul line. The sophomore guard, who's been mediocre there all season, made six of eight down the stretch to seal the Wildcats' third straight win.
Freeman had 16 points to lead Baylor. Johnathan Motley and Manu Lecomte had 13 points apiece.
Copyright 2017 The Associated Press. All rights reserved. This material may not be published, broadcast, rewritten or redistributed.