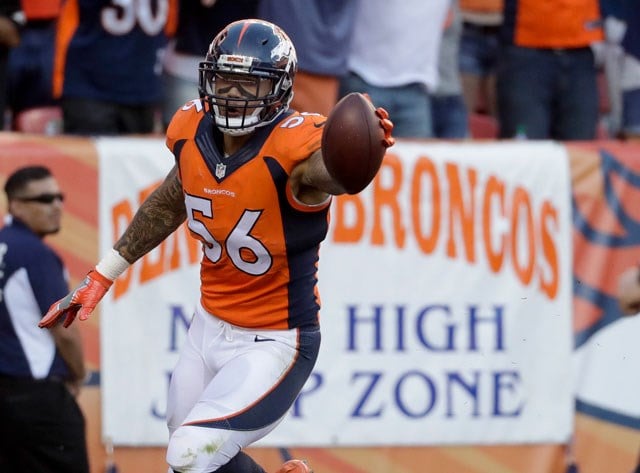 FILE - In this Sept. 18, 2016, file photo, Denver Broncos linebacker Shane Ray celebrates after scoring during the second half in an NFL football game against the Indianapolis Colts in Denver. (AP Photo/Jack Dempsey, File)
KANSAS CITY, MO (KCTV) -
Shane Ray, an outside linebacker for the Broncos, says he loves the upcoming rivalry game against the Chiefs and gets excited for it more than any other Bronco.
Ray is from Kansas City, graduated from Bishop Miege High School and the University of Missouri and even recently got a tattoo covering his back to reflect how much he loves his hometown and professional teams.
Now his hometown team, the Kansas City Chiefs, are doing everything they can to stop the Denver Broncos 2015 first round pick.
"Shane is easily the most improved player on that side of the ball," Brad Childress, the Chiefs offensive coordinator said. "They freely insert both groups of outside linebackers to rush so you may see on the third play of the game no necessarily their starters but you may see Shane and Ray and McCray coming off the edges. They have great confidence in those guys and Shane has added quite a bit to his arsenal in terms of speed rush, ability to spin and come inside as well as setting the edge in the run game."
In his second season In the league, Ray has started seven games and has four sacks and 18 tackles.
And he's just one guys the Chiefs have to plan for on this talented Denver defense.
Copyright 2016 KCTV (Meredith Corp.) All rights reserved.