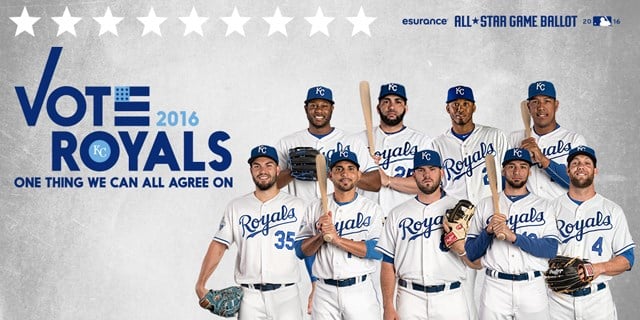 Royals fans can vote for nine positional players for the 2016 MLB All-Star Game. (Kansas City Royals)
KANSAS CITY, MO (KCTV) -
While the presidential primaries are winding down, voting for the 2016 Major League Baseball All-Star Game is just heating up.
Held on July 12 at PETCO Park in San Diego, Kansas City Royals fans have the opportunity to stack the American League All-Star team, just as they did last year when seven different Royals were named to the team.
Nine Royals positional players are eligible for the All-Star Game Ballot:
Eric Hosmer, first base
Omar Infante, second base
Mike Moustakas, third base
Alcides Escobar, shortstop
Salvador Perez, catcher
Lorenzo Cain, outfielder
Alex Gordon, outfielder
Paulo Orlando, outfielder
Kendrys Morales, designated hitter
Fans can vote up to 35 times online or with mobile devices. They can cast five ballots during each 24-hour period. Voting will conclude on June 30.
Pitchers and reserves will be selected by the manager and "Players Ballot" choices.
There will be some Royal presence guaranteed at the game, as manager Ned Yost and his staff will manage the AL team for the second straight year.
Copyright 2016 KCTV (Meredith Corp.) All rights reserved.