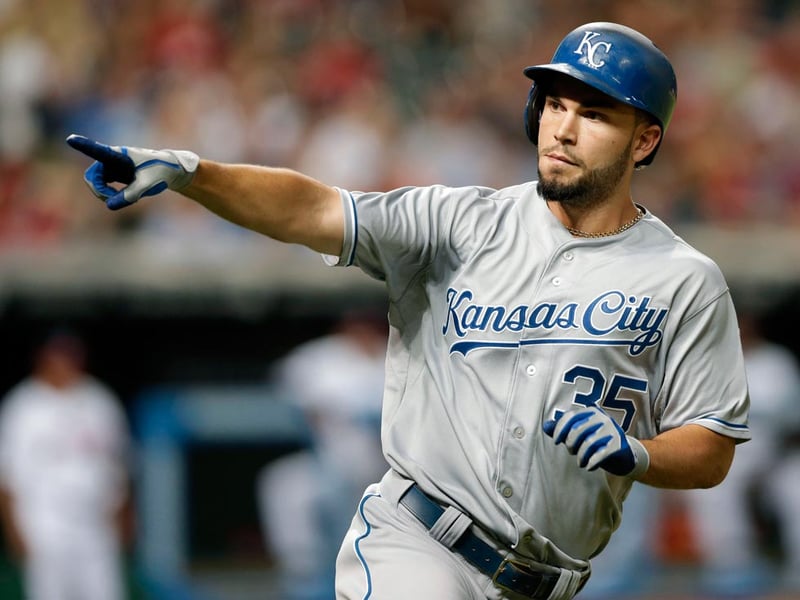 Kansas City Royals' Eric Hosmer points to the Royals dugout after hitting a solo home run off Cleveland Indians starting pitcher Trevor Bauer in the ninth inning of a baseball game, Tuesday, July 28, 2015, in Cleveland. (AP Photo/Tony Dejak)
By TOM WITHERS
AP Sports Writer

CLEVELAND (AP) -- Eric Hosmer's homer with two outs in the ninth inning lifted the Kansas City Royals to a 2-1 victory on Tuesday night over the Cleveland Indians, who have lost eight straight at home -- their longest home losing streak in 40 years.

Hosmer hit a 3-2 pitch from Trevor Bauer (8-8) over the wall in right for his 11th homer. The shot came one pitch after Indians catcher Roberto Perez threw out Lorenzo Cain trying to steal second. When his homer cleared the wall, Hosmer pointed toward Kansas City's dugout, which was celebrating wildly.

Wade Davis (7-1) pitched a perfect eighth and Greg Holland worked the ninth -- getting a nifty groundout, and a game-ending double play -- for his 22nd save as the Royals won their fourth straight and 16th in 21 games.

Bauer probably deserved a better fate. He held the AL's top team to one run for 8 2-3 innings before Hosmer, batting .413 with five homers and 19 RBIs against Cleveland this season, connected on a 75 mph curveball.

Bauer allowed just five hits in his first career complete game.

Perez opened Cleveland's ninth with a grounder toward center that appeared to be a single. However, second baseman Omar Infante ran it down on the grass and flipped the ball with his glove to shortstop Alcides Escobar, who grabbed it barehanded and threw out Perez.

The Indians have dropped six straight. They hadn't lost eight straight at home since 1975, when they played at Cleveland Stadium.

Both teams made trades Tuesday in advance of Friday's deadline.

The Royals made their second major move, acquiring utilityman Ben Zobrist and nearly $2.6 million from Oakland for right-hander Aaron Brooks and minor league left-hander Sean Manaea.

On Sunday, Kansas City landed ace Johnny Cueto, who joined his new teammates for the first time Tuesday and will make his debut Friday in Toronto.

The Indians shipped veteran outfielder David Murphy to the Los Angeles Angels in exchange for minor league shortstop Eric Statmets.

Murphy was originally in Cleveland's starting lineup, but was scratched about an hour before the first pitch.

The Royals took a 1-0 lead in the fourth when Hosmer, of course, drove in Kansas City's first run.

With two outs, Cain sent a drive to deep right that Brandon Moss appeared to catch but lost possession of the ball when he banged into the padded wall. The Indians contended that Moss had made the grab, but the triple was upheld following a video review by the umpires.

Hosmer followed with his second hit, a run-scoring single.

Michael Bourn's speed allowed Cleveland to tie it in the fifth.

He led off with a single and stole second. One out later, Bourn swiped third and scored when catcher Salvador Perez's throw tailed away from third baseman Mike Moustakas.

TRAINER'S ROOM

Indians: LHP Nick Hagadone was transferred from the 15-day to the 60-day disabled list. He underwent surgery last week to repair an elbow fracture and is expected to miss up to nine months. Hagadone had Tommy John surgery in 2008.

UP NEXT
Royals: RHP Jeremy Guthrie starts the series finale, looking to bounce back from a loss last week in Houston when he allowed four runs and 11 hits in seven innings. He has two no-decisions this season against the Indians, who drafted him in the first round in 2002.

Indians: RHP Corey Kluber dropped his 12th decision of the season in a 6-0 loss to the White Sox on Friday. The Indians haven't scored in six of his 21 starts this season.

Copyright 2015 The Associated Press. All rights reserved. This material may not be published, broadcast, rewritten or redistributed.