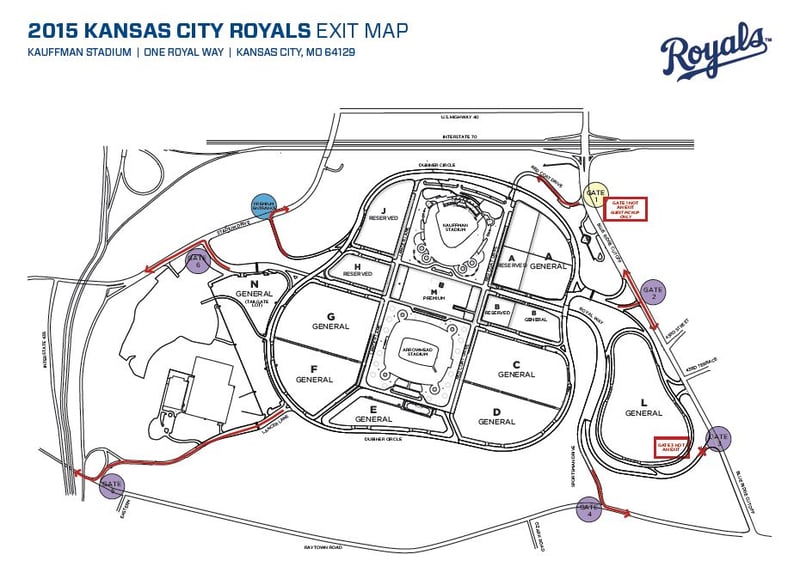 KANSAS CITY, MO (KCTV) -
The Kansas City Royals announced a new plan for guests as they leave the stadium following home games.
Certain gates that previously allowed fans to turn either right or left have been designated to allow the driver to turn only one direction as they leave the stadium. The changes will allow fans to exit the Truman Sports Complex quicker and will help improve vehicle safety. It will also help fans better navigate around construction currently underway on the Stadium Drive bridges over I-70 and I-435.
"After listening to our guests' feedback and carefully observing our traffic exit plan, we feel confident the changes we have made will, most importantly, provide a safer experience for our guests and will also speed up the egress time to get out of the complex," said Anthony Mozzicato, Director of Guest Experience. "We feel confident that this new traffic exit plan will enhance our overall guest experience."
The plan will still allow guests quick access to I-70 and I-435 from any direction they choose to leave the stadium. The following list shows all gates and how they will be used when fans are leaving the stadium following Royals games.
Gate 1 – Not an exit.
Gate 2 – Guests may turn left or right onto Blue Ridge Cutoff (no change).
Gate 3 – Not an exit.
Gate 4 – Guests may only turn left onto Raytown Road.
Gate 5 – Guests may only turn right onto Raytown Road.
Gate 6 – Guests may only turn left onto Stadium Drive.
Premium Entrance/Bus Exit (near Lot J) will only allow guests to turn right onto Stadium Drive.
Any guest requiring additional parking instructions or assistance may email guestservice@royals.com or call the game day assistance phone line at 816-504-4040, option 5.
Copyright 2015 KCTV (Meredith Corp.) All rights reserved.