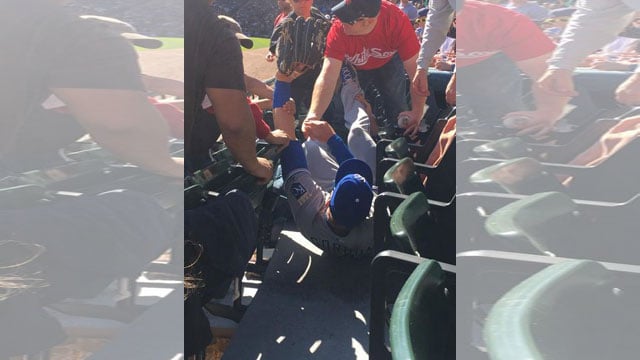 Kansas City left fielder Alex Gordon has made a terrific leaping catch against the Chicago White Sox. (Ethan Routzahn/@EthanRoutzahn)
CHICAGO (AP) -
Kansas City left fielder Alex Gordon has made a terrific leaping catch against the Chicago White Sox.
Gordon hustled over and jumped into the stands down the left-field line to grab a foul ball off the bat of Micah Johnson in the sixth inning on Sunday. He landed in a group of fans, but Gordon returned to the field and it looked as if everyone was OK.
Gordon has won four consecutive Gold Gloves.
Copyright 2015 The Associated Press. All rights reserved. This material may not be published, broadcast, rewritten or redistributed.