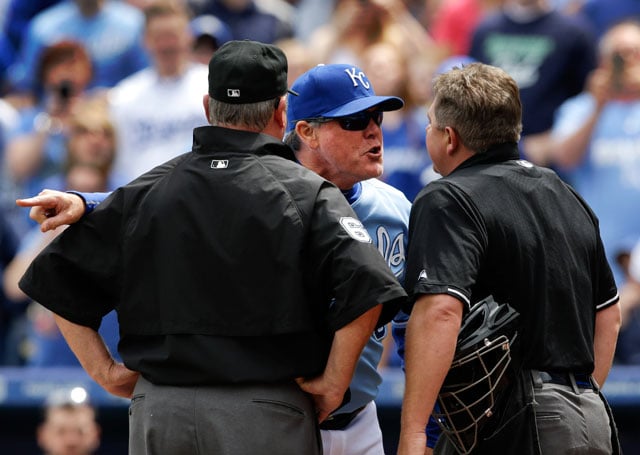 Kansas City Royals manager Ned Yost, back, argues with umpires Greg Gibson, right, and Jim Joyce, left, during the first inning of a baseball game against the Oakland Athletics at Kauffman Stadium on Sunday, April 19, 2015. (AP Photo/Orlin Wagner)
KANSAS CITY, MO (AP) -
Royals manager Ned Yost was ejected in the first inning after Lorenzo Cain was hit by a Scott Kazmir pitch and both teams were issued a warning by plate umpire Greg Gibson.
After the warning was issued Sunday, Yost came out to argue and was immediately ejected by Gibson. Royals pitching coach Dave Eiland was also ejected.
Royals right-hander Yordano Ventura was ejected Saturday after hitting Brett Lawrie with a pitch following Josh Reddick's home run. Dugouts and bullpens emptied, but no punches were thrown.
Lawrie's hard slide into Alcides Escobar injured the left knee of the Kansas City shortstop on Friday and caused benches to clear. Escobar missed the game Saturday and was not in Sunday's starting lineup.
Kansas City has been hit by 14 pitches.
Copyright 2015 The Associated Press. All rights reserved. This material may not be published, broadcast, rewritten or redistributed.