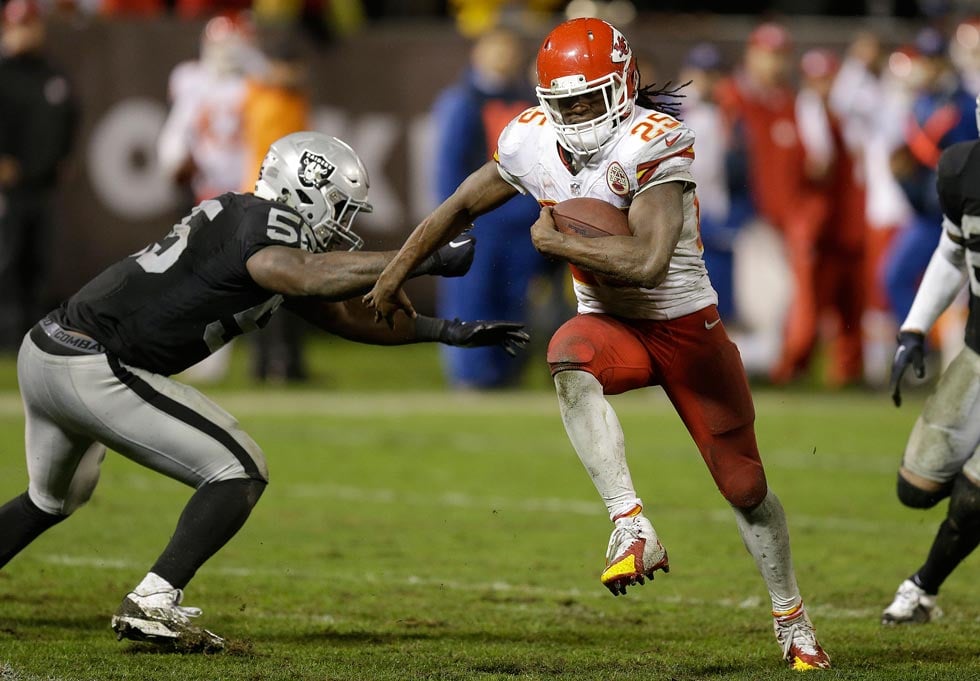 Kansas City Chiefs running back Jamaal Charles (25) runs past Oakland Raiders outside linebacker Sio Moore (55) to score on a 30-yard touchdown reception during the fourth quarter of an NFL football game in Oakland, Calif., Thursday. (AP Photo/Ben Margot)
KANSAS CITY, MO (KCTV) -
Chiefs starting center Rodney Hudson has reportedly come to an agreement with the Oakland Raiders.
NFL sources say the five-year deal is worth $44.5 million.
The 25-year-old Hudson was a second-round draft pick in 2011. He took over the starting center spot two year ago, and is widely considered an up-and-coming star at the position.
If the deal gets done, the Raiders will be able to achieve two goals: first, shore up their center position, second, harm a division opponent.
Hudson would be the fourth free agent lost off the Chiefs offensive line since John Dorsey and Andy Reid took over the franchise two years ago.
KC might take a long look at Oakland's 2014 center, Stefen Wisniewski. The 25-year-old becomes a free agent on Tuesday. He has started the past four seasons for the Raiders.
Copyright 2015 KCTV (Meredith Corp.) All rights reserved