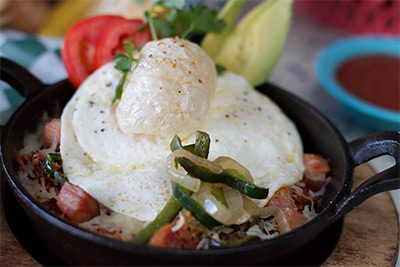 Ingredients:
Roasted Pulled Pork – 2 oz.
Breakfast Potatoes – 3 oz.
Crispy pork belly – 2 oz.
Salsa Verde – 1 oz.
Chihuahua Cheese – ¼ cup
Sauté Peppers – 1 oz.
Sauté yellow onions – 1 oz.
Fried Eggs – 2
S & P – Pinch
Chicharrones – ½ oz.
Sliced Avocado – ¼ cup
Sliced Roma Tomatoes – 2 each
Cilantro Sprig - 1 each
Method:

Fry breakfast potatoes for 5 minutes or until done and golden brown. Remove from the fryer and season with salt and pepper.
Place potato in a bowl evenly distribute hot pulled pork over potatoes, Top pull pork with crispy pork belly.
Top with peppers and sauté onion. Evenly sprinkle shredded cheese over hash. Place in the oven for 3 - 4 minutes melt cheese.
Remove from oven and top with salsa. Place fried egg over hash.
Top with chicharrones , sliced avocado and tomatoes.
Garnish with cilantro.