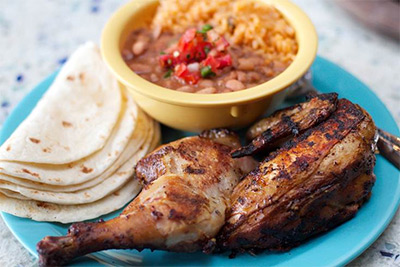 Wood-Fired Chicken Recipe Ingredients:
1 Whole Chicken, split
Chicken Brine - 2 quarts
Chicken Rub - 1 cup
Salt and Pepper - 1 Tablespoon
Brine Ingredients:
Water 2 quarts
Salt 1/4 cup
Bay leafs 2
Cracked black pepper 1 Tablespoon
Method:

Place all ingredients in large container and mix well. Place chicken in brine and cover in refrigerator. Brine chicken for no more than 12 hours.
Preheat the grill to 400 degrees F.
While the grill is preheating, remove the chicken from brine and pat chicken dry, removing any herbs or spices sticking to the skin.
Place chicken on a sheet tray skin side down, pour 1/4 cup of preferred chicken rub, using rubber gloves, spread rub evenly over chicken. Flip chicken over and place 1/4 cup on the skin side. Distribute rub evenly over chicken. Season as needed.
Oil the grill grates and place chicken skin side up on the grill. Cook for about 20 minutes, flip chicken and cook skin side for about 20 minutes. Check chicken after 10 minutes to make skin side is cooking evenly.
Once skin side is golden brown, insert a thermometer into the thickest part of the chicken to check temperature. Chicken must be 165 degres F internal temperature close to the bone. If more time is needed, continue to cook chicken at low temperature until done.