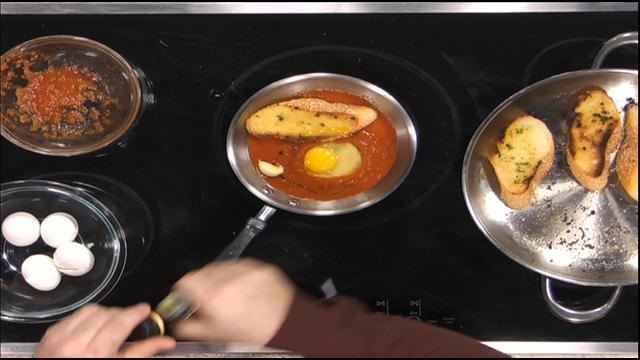 FAIRWAY, KS (KCTV) -
You're Toast - Rachel Ellyn and Chef Jasper Mirabile's new book shares some of the best recipes found around town.
Here is one such recipe:
Jasper Mirabile's Eggs in Purgatory
(Uova al Pergatorio)
Ingredients:

4 eggs
1 Tablespoon Extra Virgin Olive oil
1 clove garlic
1 cup Jasper's Marinara Sauce
1 Tablespoon grated Romano cheese
4 pieces Garlic Bread
Steps:

Toast Garlic Bread and set aside. In a saute pan, add olive oil. Heat and add garlic. Add Marinara sauce and warm.
Make four wells in sauce and add an egg into each. Cook 2-3 min. Cook until egg white is set.
Remove eggs from pan and place one on each slice of garlic toast. Dust with grated Romano and basil leaves. Serve at once.
Chef Jasper's Notes: Eggs in Purgatory...I imagine you get the connotation! Be creative with this dish, add Prosciutto di parma on top before serving, make spicier with a touch of red chili peppers, get healthy and add fresh asparagus or broccoli and finish all with slices of fresh Mozzarella.

Copyright 2014 KCTV (Meredith Corp.) All rights reserved.