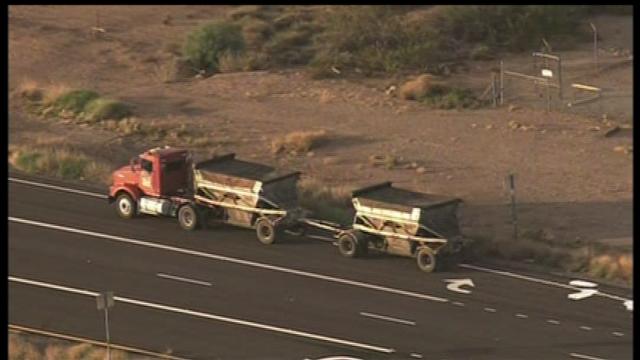 MORRISTOWN, AZ (AP) -
A seven-mile stretch of U.S. 60 northwest of Phoenix has reopened after a nearly six-hour closure Friday morning because of a hazardous material incident.
The Department of Public Safety says a truck was hauling copper concentrate that began to smolder and emit a toxic gas, hydrogen sulfide.
The driver felt woozy and pulled over. He was treated at a hospital and released. Firefighters cooled off the load with water.
DPS spokesman Bart Graves says another truck had a similar load that was smoldering when it arrived in Phoenix. He says firefighters put out the fire and there was no injury.
The highway was closed between Wittmann and Morristown, two small communities between Phoenix and Wickenburg on the main route between Phoenix and Las Vegas.
Traffic was detoured during the closure.
Copyright 2013 Associated Press. All rights reserved.