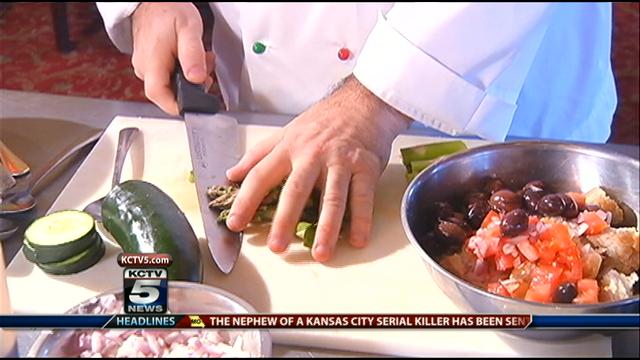 KANSAS CITY, MO (KCTV) -
KCTV5 visits Jaspers, the 59-year-old restaurant just inside the Missouri of the state line.
Ingredients:
1 loaf farm to market sourdough bread
1/2 cup XV olive oil
4 roma tomatoes cubed
6-8 asparagus spears cut into pieces
1 cup chopped
6-8 torn basil leaves
1 cup red onion chopped
1/2 cup Greek olives
1/4 cup Balsamic glaze
Sea salt & pepper to taste
Steps:
Soak bread with olive oil. Add remaining ingredients. Drizzle in Balsamic vinegar. Toss all and chill for 30 minutes.
Jasper's Notes: This is the easiest salad you will ever prepare. I like to drizzle in local honey for a sweet addition. Toss and place on broiled fish, chicken or pork.
Drizzle oil over bread mixture and season with salt and pepper. Toss together until fully combined.
Go to jasperskc.com for more information.