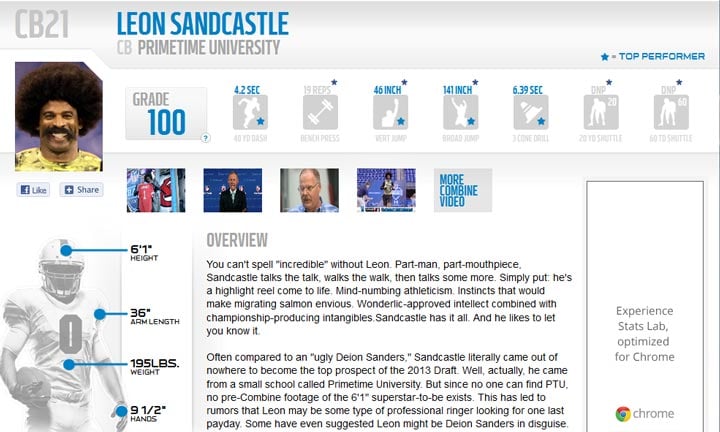 www.nfl.com/combine/profiles/leon-sandcastle
KANSAS CITY, MO (KCTV) -
If you believe everything you see on TV, he was the Kansas City Chiefs No. 1 draft pick.
On Thursday the Chiefs made the next rookie sensation - and star of NFL Network's Super Bowl XLVII advertisement - Leon Sandcastle available to all Kansas City media outlets.
Sandcastle is a fictitious character played by Deion Sanders in the commercial that first ran during February's Super Bowl. The advertisement shows Sanders trying to become the next rookie sensation by donning a wig and mustache and participating in the NFL Scouting Combine as the fictitious Sandcastle.
At the Combine, Sandcastle amazes scouts with his athletic skills, in the process making him one of the hottest NFL Draft prospects. The advertisement culminates with Sandcastle being selected first in the 2013 NFL Draft by the Chiefs. The spot ends by telling viewers to "watch the Combine and draft on NFL Network because the next rookie sensation probably won't be Leon Sandcastle."
Sanders had a Hall of Fame career in the NFL, including helping the Dallas Cowboys win the Super Bowl. He was the rare two-sport athlete, playing professional baseball. He has carved out a broadcasting career, but his personal life has been marred by marital issues.

Copyright 2013 KCTV (Meredith Corp.) All rights reserved.