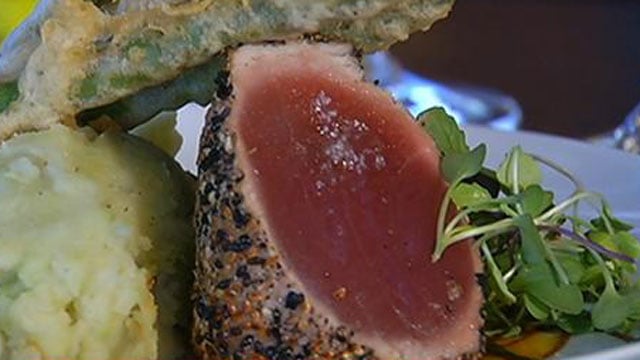 Tannin Wine Bar and Kitchen is located in the Crossroads on Walnut, just off of 16th street. Below are recipes used in their sesame seared ahi tuna with wasabi mashed potatoes and tempura asparagus.
Wasabi Mashed Potatoes
Ingredients:
8 each Idaho Potatoes (Peeled and Quartered)
½ quart Heavy Whipping Cream
½ lb. Butter
½ cup Wasabi Powder (reconstituted with water)
Salt and Pepper to taste
Procedures:
In a large stock pot, add peeled and quartered potatoes and cover with cold water. Bring to a boil and simmer until potatoes are soft and tender. Strain potatoes in a colander for a few minutes to allow excess water to evaporate. Heat heavy cream and butter until butter is melted. In a large mixer with a paddle, add potatoes, cream mixture and wasabi paste and beat until soft. Season with salt and pepper.
Tempura Batter
Ingredients:
2 cups Flour
2 cups Cornstarch
1 Tbs. Baking Powder
1 tsp. Baking Soda
3 cups Soda Water
Salt and Pepper to taste
Procedures:
Combine all dry ingredients, then whisk in soda water.
Copyright 2013 KCTV (Meredith Corp.) All rights reserved.