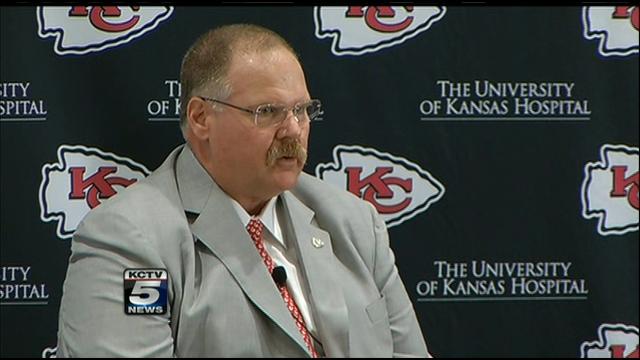 KANSAS CITY, MO (KCTV) -
New Chiefs coach Andy Reid is definitely making his mark felt on the Kansas City Chiefs.
Tight end Kevin Boss and wide receiver Steve Breaston were big free agent signings by the Chiefs, but both were busts on the field.
The Chiefs released both on Tuesday.
Boss, who came to the Chiefs from the Raiders, started two games for the Chiefs in 2012 before being placed on injured reserve with a head injury. He recorded three receptions for 65 yards with one touchdown.
Boss joined the NFL as a fifth-round draft pick in 2007 for the New York Giants. He was part of their squad that won Super Bowl XLII.

Breason started in 17 of 26 games for the Chiefs. In two seasons, he tallied 68 receptions for 859 yards with two touchdowns, one carry for 25 yards and a punt return for 21 years.
He joined he league as a fifth-round draft pick in 2007.
Copyright2013 KCTV (MeredithCorp.) All rights reserved.