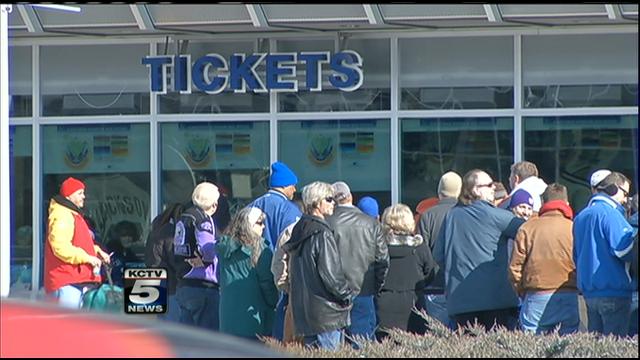 KANSAS CITY, MO (KCTV) -
On Saturday, many were looking forward to spring and baseball season.
The Royals single game tickets went on sale to the public Saturday at 10 a.m.
Many hoped to reserve their seat for Opening Day, but they had to be quick. People lined up early at the Kauffman Stadium box office. Others stayed warm inside and purchased tickets at royals.com or via phone.
Many said their hopes for a good season brought them out in the early hours.
"We are excited about the new season," Brian Kramer said. "New season, new faces, new hopes."
"This year they've got better pitchers, I think that was my main reason for coming out to get some tickets," John Anaya.
One man bought 40 tickets at the box office. He joked that he had a lot of friends.
A representative for the Royals said Opening Day tickets sold out in less than an hour. For those still wanting tickets, he said there will still be some single seats scattered throughout the stadium, and standing room only tickets will be available early in the week as a result of some transactions not going through.
Copyright 2013 KCTV (Meredith Corp.) All rights reserved.