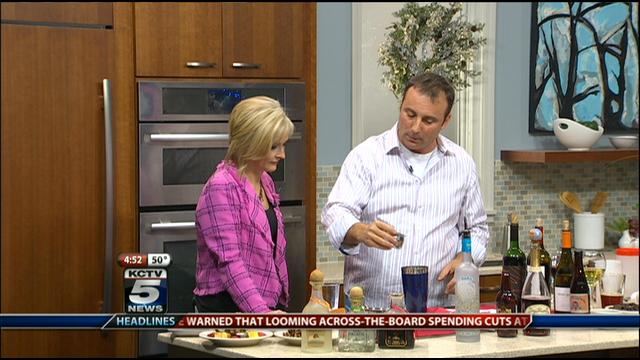 FAIRWAY, KS (KCTV) -
Kevin Timmons, owner of Nick and Jake's, shows off how to make some very fun and interesting cocktails and what Valentine's Day cocktails they're offering this year.
1. Boulevard Sixth Glass-
• A brown colored, full bodied beer with a complex fruity, Belgian yeast ester aroma, a rich, sweet, caramel malt flavor containing notes of dark fruit and a low to medium hop bitterness and flavor.
2. CHOCOLATE KISS-
2 Oz Patron XO Café Dark Cocoa, .75 Oz Patron Silver, .25 Oz Citronage, 1 Oz Heavy Whipping Cream, .75 Oz Simple Syrup, 1 Egg White.
BARTENDER'S NOTES:
IMPORTANT: Shake Dry First (No ICE) to fluff egg white!! Then shake with ice to chill.

Served in Chilled Martini Glass
Will prep 1 Oz Ramekins with one egg white in Each in AM to keep in Bar cooler.
Will Need 1 Heavy Whipping Cream Behind Bar. Half & Half won't work.
Chocolate Syrup Drizzle and Hershey's Kiss for Garnish.
3. RED VELVET MARTINI
Fizz 56 Brachetto Vt Rose Champagne, 1.5 Oz Cake Vodka, Cream Soda
BARTENDER'S NOTE:
Still working on presentation
4. CHOCOLATROUGE DARK CHOCOLATE RED WINE
5. MONOGAMY WINES
North Coast Winery; A marriage of Cabernet Sauvignon from Lake, Mendocino, and Sonoma Counties
Cabernet Sauvignon

Classic Cabernet Sauvignon aromas of black olives, cassis, plum and dried herbs. Completely committed flavors of blackberry, black cherry, cassis and plum with a smooth velvety texture followed by a lingering and slightly toasty finish.

Chardonnay

Bright aromas of fresh apple, pear and pineapple lead to flavors of the same with a touch of cream, butterscotch and light oak on the finish
Ordering (Rikki)
1. Cake Vodka
2. Patron's (All 3)
Ordering (J-Will)
1. Hershey's Kisses
2. Martini Glasses
3. Décor (Boas)/Employee Beads/Hats
Copyright 2013 KCTV (Meredith Corp.) All rights reserved.