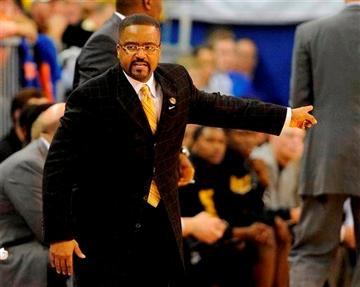 (AP Photo/Phil Sandlin). Missouri coach Frank Haith shouts instructions to his team during the second half of an NCAA college basketball game against Florida in Gainesville, Fla., Saturday, Jan. 19, 2013.
COLUMBIA, MO (SBNATION) -
The NCAA is expected to release a notice of allegations as early as this week regarding its investigation into the athletic program at the University of Miami. When that happens, Missouri basketball coach Frank Haith will be charged with unethical conduct and failure to promote an atmosphere of compliance, a source told Jeff Goodman of CBSSports.com.
According to Goodman's source, the NCAA was unable to prove the claim made by former UM booster Nevin Shapiro that Haith or anyone on his Miami staff at the time paid $10,000 to a family member of former player DeQuan Jones. Still, Haith will be charged with unethical conduct because the NCAA did not believe his story that payments to his assistants intended for camp money did not wind up going to repay Shapiro.
The failure to promote an atmosphere of compliance charge will stem from impermissible airline travel that was given to the family of two players from a member of his staff and also the interaction between Shapiro and players while on visits.
The charges against Haith could result in a multiple year show-cause penalty similar to the one handed out to former Tennessee coach Bruce Pearl. Pearl, who lied to the NCAA in 2011 about illegally hosting recruits at his home during unofficial visits, was charge with unethical conduct and ultimately dealt a three-year show-cause penalty. He is currently working as an analyst for ESPN.
The Associated Press Coach of the Year for 2011-12, Haith led Missouri to a 30-win season and a Big 12 Tournament title in his first year on the job. The Tigers earned a No. 2 seed in the NCAA Tournament, but were stunned by Norfolk State in the round of 64.
Missouri is 13-4 this season and currently ranked 22nd in both the AP and coaches' polls.
Copyright 2013 KCTV (Meredith Corp.) and SBNation. All rights reserved.