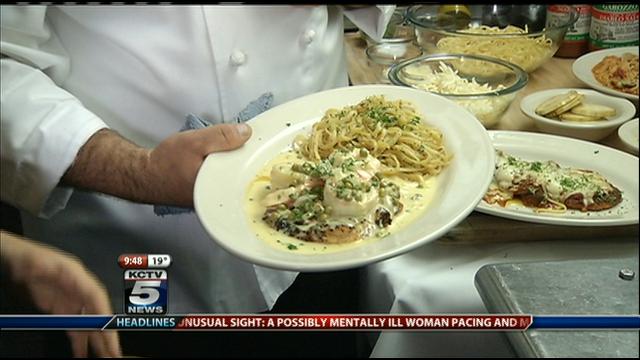 KANSAS CITY, MO (KCTV) -
Garozzo's is one of many restaurants participating in Kansas City Restaurant Week Jan. 18-27. The event benefits Harvesters Community Food Network. They demonstrate one such delicious recipe that participants can try while at Garozzo's.
Ingredients:
12 (2-ounce) milk fed veal leg slices (pounded thin)
12 thin slices of skinless eggplant
1 pound of Italian breadcrumbs
4 eggs
2 cups milk
1 24 ounce jar of Garozzo's Sugo
4 ounces parmigiano cheese
8 ounces of shredded imported fontina cheese
2 cups olive oil
1/2 cup diced fresh Italian parsley (optional)
Instructions:
Combine eggs and milk, stir until mixed. Place breadcrumbs in a separate bowl. Dip the veal into the egg mixture and then breadcrumbs.
Heat 1 cup olive oil in nonstick skillet over medium-high heat. Add veal and sear for approximately two minutes on each side. Remove from skillet and place on a dry paper towel. Rinse out skillet, add the remaining olive oil and sear the eggplant for one minute on each side. Remove and place on a dry paper towel.
To serve, place the veal on a sheet pan with eggplant on top. Cover with Garozzos Sugu, parmigiano and fontina cheese. Bake at 350 for five to seven minutes until cheese has thoroughly melted, garnish with a drizzle of chopped parsley.
Linguine Aglio E Olio
Ingredients:
1/4 pound of Linguine
1.5 cups olive oil
1 teaspoon of fresh chopped garlic
1/4 teaspoon crushed red pepper
2 tablespoons of Romano cheese
Dash of salt (to taste)
Dash of pepper (to taste)
1 tablespoon of fresh chopped parsley
Instructions:
Boil the linguine until al'dante (firm), then drain. On low heat add the olive oil and stir. Combine the rest of the ingredients with the pasta being last. Serve pasta and sauce, topped with Romano cheese.
Copyright 2012 KCTV (Meredith Corp.) All rights reserved.