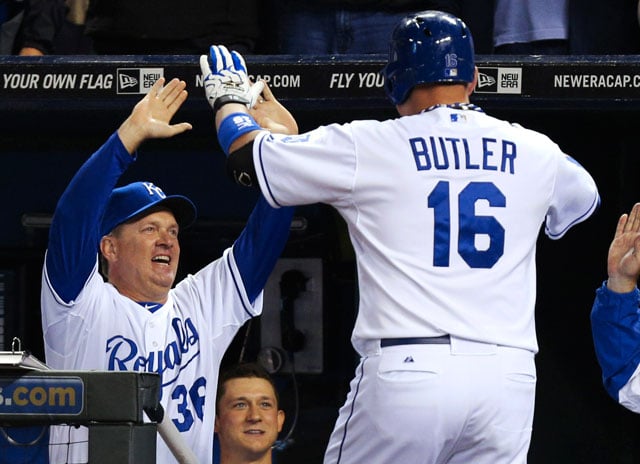 Kansas City Royals' Billy Butler (16) celebrates his two-run home run with Kevin Seitzer (36) and David Lough (7) in the ninth inning of a baseball game against the Los Angeles Angels on Saturday, Sept. 15, 2012, in Kansas City, Mo. (AP Photo/Ed Zurga)
KANSAS CITY, MO (KCTV/AP) -
The Royals have chosen not to renew the contract of hitting coach Kevin Seitzer after the team finished 72-90 for its ninth consecutive losing season.
General manager Ned Yost and general manager Dayton Moore announced the decision shortly after meeting with Seitzer on Thursday. Kansas City wrapped up its season with a 1-0 loss to the AL Central champion Detroit Tigers on Wednesday night.
Seitzer worked with a team that put together a .265 average this season, seventh-best in baseball, but struggled to score. Kansas City finished 20th in runs scored.
Yost said the composition of the batting lineup lends itself to developing power, while Seitzer's forte is hitting for average. Yost said he expects the next hitting coach to come from within the organization.
The remainder of the coaching staff, the club said, will return next season including bench coach Chino Cadahia, pitching coach Dave Eiland, first base coach Rusty Kuntz and third base coach Eddie Rodriguez.
The Royals said they will also need to fill the bullpen coach position after naming Steve Foster the club's Special Assistant to GM/Minor League Pitching Coordinator on Aug. 31.
The club said they plan to hire a hitting coach and a bullpen coach at a later date.
Copyright 2012 KCTV (Meredith Corp.) All rights reserved. The Associated Press contributed to this report.