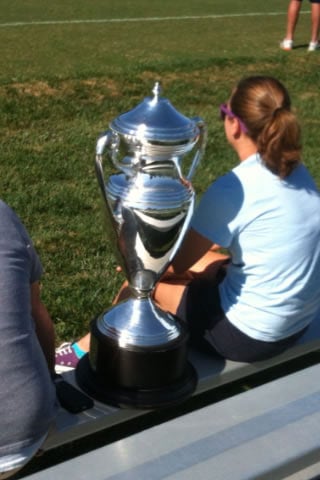 Emily Ritter spending the day with the Open Cup. Courtesy: Alan Shope/KCTV
KANSAS CITY, KS (KCTV) -
What would you do if you won Sporting KC's 2012 Lamar Hunt U.S. Open Cup for a day?
That's the question the club was asking their fans in an online, Win the Cup contest.
In the contest, fans had to write a love letter to the Open Cup. Ten contest winners got to hang out with the Cup, but it's hard to believe what Prairie Village Sporting KC fan Emily Ritter did with it Tuesday. She got married to it.
"Yesterday I took it all over the city and it proposed to me with the skyline in the back ground and then we got married at Livestrong (Sporting Park)," Ritter said. "It's not often you get a whole day with a trophy."
The winner who does the most extravagant activity with the trophy will be the overall winner and get four tickets to the season finale game on Oct. 24.
Sporting KC was crowned champions of the Lamar Hunt U.S. Open Cup for the second time in club history, prevailing 3-2 on penalty kicks after a 1-1 draw in regulation against the Seattle Sounders in August.

Copyright 2012 KCTV (Meredith Corp.) All rights reserved.