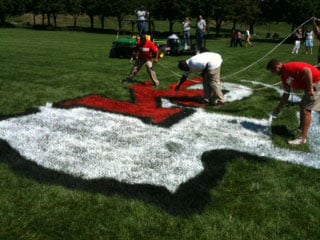 Alan Shope/KCTV
KANSAS CITY, MO (KCTV) -
One of Kansas City's favorite traditions returns Friday as the Chiefs celebrate the initial Red Friday of the 2012 season. Red Fridays, which celebrate the community's enthusiasm for the Chiefs, have become part of the Kansas City culture and will start this week with celebrations around the metro area as fans wear red to show their team spirit on Fridays during football season.
At 2 p.m. on Thursday at the Nelson-Atkins Museum of Art (4525 Oak St., Kansas City, MO) is the painting of the Arrowhead logo. The logo will also be painted in a variety of locations around the city, including Liberty Memorial and the Kansas City International Airport.

From 6:30-9 a.m. on Friday a special edition of the 2012 Chiefs Red Friday Magazine will be sold at key areas throughout the metro area, with Chiefs Red Coaters leading hundreds of volunteers in street corner sales. A donation of $2 is suggested for fans wishing to obtain a copy of this year's Red Friday Magazine, which will be available at more than 35 locations.
About 7:45 a.m. on Friday downtown a Chiefs crew will be painting the sky red when a team of smoke-writer airplanes will release red smoke over downtown Kansas City for Red Friday.
From 6:30-7:30 p.m. on Friday a Chiefs pep rally will be held at KC Live! Stage at the Power and Light District, located at 13th and Grand in Kansas City, MO. Chiefs fans can gather as 'Voice of the Chiefs' Mitch Holthus and Shanna Hilt lead a pep rally downtown. Chiefs Head Coach Romeo Crennel, General Manager Scott Pioli and 20 Chiefs players are scheduled to appear on-stage.
More Red Friday Activities
In addition to the above events, Kansas City Chiefs fans are invited to participate in several live Red Friday events planned around the metro area throughout the day, including:
Social Media Scavenger Hunt
All Day
Chiefs fans can follow the team on Facebook and on Twitter throughout the day for chances to win tickets for the home-opening game against theAtlanta Falcons through a social media scavenger hunt.
#RedFriday Social Media Campaign
All Day
Throughout the day, the Chiefs will be posting messages and photos to Facebook and Twitter using the #RedFriday hashtag. A special Red Friday avatar will also be made available on Twitter for fans to download.
All fans are asked to participate by posting pictures of themselves wearing their red and attending the numerous Red Friday events throughout the day on social media as well as KCChiefs50.com.

810 Zone Lunch Broadcast
10 a.m.-2 p.m.: 810 Zone Leawood Town Center, located at 4800 W. 119th St. in Leawood, KS
SportsRadio 810 WHB host Soren Petro will broadcast The Program live from 810 Zone– Leawood Town Center for a special Red Friday lunch special from 10 a.m. to 2 p.m.. The Chiefs will be on-site from 11 a.m. until 1 p.m. with executives, Chiefs Cheerleaders, Ambassadors and KC Wolf. Fans will have the chance to enjoy a Red Friday lunch special while there.
Hy-Vee Lunch Specials
Lunchtime: Hy-Vee locations throughout the Kansas City area
Tailgating is a major part of the Chiefs game day experience. Hy-Vee stores will help put food at the center of Friday's celebration by offering a Red Friday lunch special at all their Kansas City metro area locations to help Chiefs fans celebrate the start of the 2012 season.
Chiefs Happy Hour
5-6:30 p.m.: The Dubliner at the Power & Light District
Leading up to the Chiefs Red Friday Pep Rally at the KC Live! Stage, Chiefs fans can gather in the Power & Light District and enjoy Happy Hour specials with Chiefs Cheerleaders and Ambassadors also on-site leading up to the Pep Rally.
Copyright 2012 KCTV (Meredith Corp.) All rights reserved.