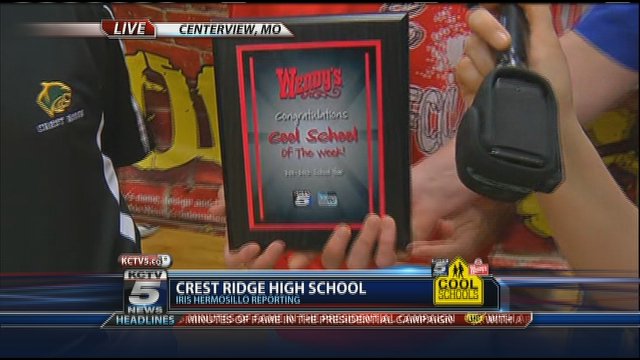 CENTERVIEW, MO (KCTV) -
One of the main things taken away from KCTV5 It's Your Morning's visit to award Crest Ridge High School with this week's Wendy's Cool School of the Week award was how talented its students are and how much they want to help their community become a better place.
From blood drives to dances, the school's student council works year round to provide fun activities for the kids and help those who most need it in the community.
Members of the Cougar marching band showed off their musical skills as they performed such hits as I Want You Back by The Jackson 5.
To be a Wendy's Cool School of the Week, it takes teachers who are one-of-a-kind and build up their students on a daily basis. One such teacher featured is Juanitta Peaslee, a science teacher who has been teaching for 49 years. Besides molding students in the classroom, this woman is also prominent at many school proms and sporting events.
Besides being educationally sound, students at Crest Ridge High are involved in many other organizations that promote community involvement and support. Their "Souper Bowl of Caring" and "Root for Joplin" campaigns are perfect examples of that.
Everyone at Crest Ridge High School made it clear Friday morning why the school is so cool.
Copyright 2012 KCTV (Meredith Corp.) All rights reserved.