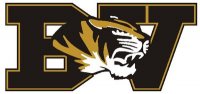 EMPORIA, KS (AP) -
Hutchinson jumped out to a 20-0 first quarter lead and held off a late Blue Valley rally to win the state Class 5A championship 33-21.
Three Salthawks players, led by Ja'mon Cotton's 137 yards, ran for at least 100 yards Saturday as Hutchinson (11-2) claimed its first state title since a streak of 6 straight ended after its 2008 title.
Blue Valley's Kyle Zimmerman passed for 212 yards to keep the Tigers in the game, including a 72-yard pass to Justin Fulks in the second quarter to cut the lead to 20-7.
Hutchinson was held scoreless for most of the second half, allowing Blue Valley to close to within 27-21 on two Fulks touchdown runs. Cotton's 45-yard TD with 9 seconds left gave the Salthawks the final margin.
Copyright 2011 The Associated Press. All rights reserved. This material may not be published, broadcast, rewritten or redistributed.