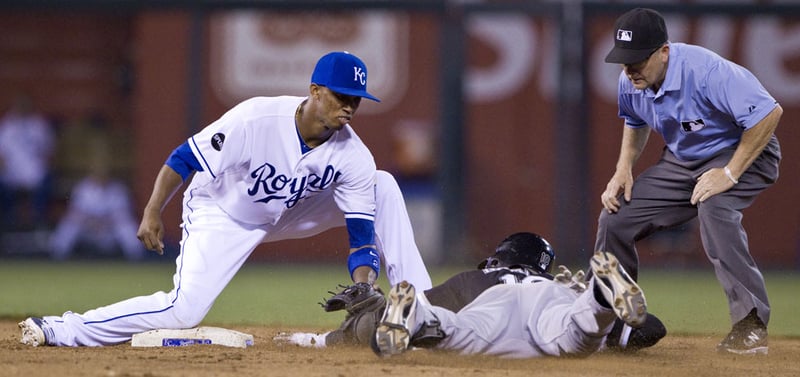 © Kansas City Royals shortstop Alcides Escobar tags out Chicago White Sox's Alexei Ramirez trying to advance to second on a throwing error in the 9th inning. John Sleezer/The Kansas City Star
KANSAS CITY, Mo. (AP) - Mark Buerhle lasted seven innings in another impressive start, and the Chicago White Sox capitalized on an error by young shortstop Alcides Escobar to beat the Kansas City Royals 5-2 on a steamy Monday night.
Buehrle (7-5) hasn't allowed more than three earned runs in his last 14 starts going back to April 22, though his modest record doesn't indicate how well he's been pitching.
The veteran left-hander, in the final year of a 4-year, $56 million contract, allowed five hits while winning for the first time since June 9. Buehrle struck out three and walked one while throwing 111 pitches in 95-degree temperatures. The heat index at Kauffman Stadium was 102 at first pitch.
Three relievers wrapped up the win.
Copyright 2011 The Associated Press. All rights reserved. This material may not be published, broadcast, rewritten or redistributed.